What We Really Mean When We Say "Ethics"
When we say ethics, it's not necessarily what we mean.
We're all weary and wary in the wake of Cambridge Analytica, questions around Google's involvement with Project Maven or China, and the rise of fake news. It's no surprise that we are calling for some time to reconsider what it means to do design in the sphere of tech and AI and to do it ethically.
In 2018–19 alone, the use of the term ethics is exploding—not least in the interaction design community.
But when we say ethics in design, what do we really mean? Right and wrong, or righteousness? The good life or fear of bad actors? Is it really ethics, or is it something else? And how will that help us to be better designers.
This talk is based on a study on the different angles on "ethics" that designers are taking today. It starts with case studies of how major tech companies and universities are approaching ethics. It bounces those studies against an analysis of how words like "ethics," "AI" and design are used and what it turns out they mean when we use them—which is different than what we think, and sometimes want them to mean. In the end, this talk will help to show us where we might be able to place our energy and attention as designers toward creating a fair, just, safe, equitable —and ethical— digital world. Designers are uniquely poised to do this work, and in this talk, we will look at how.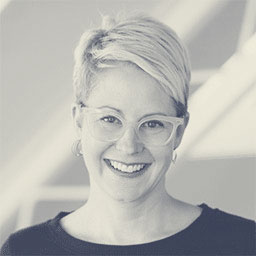 Molly Steenson
I am a designer, author, professor, and leading speaker and my work focuses on the intersection of design, ethics, and artificial intelligence. At Carnegie Mellon University, I am the K&L Gates Associate Professor of Ethics & Computational Technologies, Senior Associate Dean for Research in the College of Fine Arts, and Associate Professor in the School of Design at Carnegie Mellon University. I spoke at the first IxDA conference in 2008 and was co-chair of the IxDA Awards from 2016–18.
I am the author of two books. "Architectural Intelligence: How Designers and Architects Created the Digital Landscape" (MIT Press, 2017) tells the radical history of AI's impact on design and architecture and how it poured the foundation for contemporary digital design. I am also the co-editor of the forthcoming book "Bauhaus Futures" (MIT Press, 2019), which asks, "If the Bauhaus were around today, what would keep it up at night?"
Previously, I was an Assistant Professor in the School of Journalism and Mass Communication at the University of Wisconsin-Madison, an adjunct faculty member at Art Center in Pasadena, CA, and Associate Professor of Connected Communities at the Interaction Design Institute Ivrea in Italy. I hold a PhD in Architecture from Princeton University and a Master's in Environmental Design from the Yale School of Architecture.
Prior to academia, I started working with the Web in 1994 and have worked at groundbreaking design studios, consultancies, and Fortune 500 companies in Silicon Valley, San Francisco, New York, Europe, and India.