Developing a learning UX for AI
Sponsored workshop – Half day (4h) | Feb 5 – 9am | SVC - Rocky
AI. Machine Learning. Big Data. But, what do these fancy buzzwords mean in the context of humans and their behaviors? How can bringing UX expertise and strategies earlier on in the AI development process inform a meaningful end-user experience?
In this interactive workshop, Hannah Maddy, Senior Product Designer at Netflix, will provide fundamentals and definitions of AI, how to define user interactions that help models become more intelligent, and best practices and frameworks you can take with you to to create a meaningful balance between humans and artificial intelligence.
Outline
In the introductory session, we will go through principles of AI and how it relates to UX, and how great UX can minimize the gap between this intelligence and humans.
You'll then dive into a hands-on activity and develop a product concept based on real-world needs uncovered through user interviews.
Based on your user interviews and product concept, leveraging the concepts of agentive and assistive automation, you'll learn how to map opportunities for AI in your product, while defining success metrics along the way.
Leveraging the mental model framework, you'll then learn how to define internal and external stimuli and how it impacts the training and automation opportunities for machine learning.
You'll then develop a quick sketch or mock of your concept highlighting points for AI and human interaction while surfacing unintrusive continuous training opportunities leveraging the AI UX best practices.
We'll close the workshop with a concept share and further discussions surrounding AI UX in practice in your organization.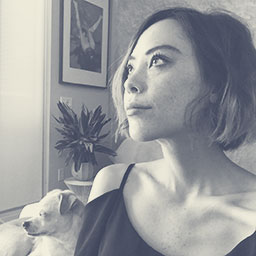 Hannah Maddy
Before arriving at Netflix, Hannah has developed experiences used by children, bridezillas and the NSA, touching brands such as ESPN, Ford, and AT&T along the way. When founding her failed startup Radish, an algorithmic recipe service that delivers recipes based on the ingredients a user has on hand, her fascination for assistive AI grew, and she's been solving UX problems in the automation space since then.
When she's not trying to figure out how robots can continue to help humans do life better, she spends time caring for her 30 houseplants. Hannah only logs into her Twitter during speaking opportunities and apologizes for the mass feed of red panda posts in advance.