Let's Talk About Tattoos, Baby
From Pinterest to Interest: How an insight fueled a movement and is helping breast cancer survivors make friends with the mirror again.
It's not uncommon for designers to be dealing with uncharted territory. And then there were two: breast cancer and tattoos.
Upon learning about a breast cancer survivor who wanted more options after a mastectomy, we picked up on an unmet need and acted upon it. What resulted was P.ink (Personal Ink) — a global organization that educates mastectomy patients about tattoos as a healing option and connects them to tattoo artists who can help. Once an untapped opportunity, P.ink's roots began on Pinterest, then evolved to become an actionable platform and its own non-profit—the first of its kind—that is bridging the worlds of healthcare and tattoos and is improving the survivor journey.
This talk is about making something meaningful out of nothing. It's not a secret that there is a strong desire within the design community to make an impact, and more often than not, we are diving into areas we don't have expertise in. I'll talk about the strategies that helped a team with no healthcare experience move quickly from inspiration to execution, adapt as needs evolved, and our learnings throughout the journey.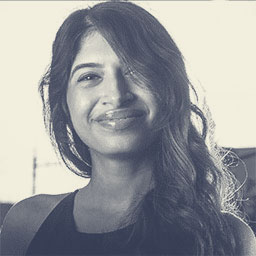 Azmina Karimi
Azmina is a Service and Experience Designer driven by improving the quality of life.
She has over six years of experience in the healthcare space. She is part of the founding team of P.ink (Personal Ink), and has been working very closely with breast cancer survivors and tattoo artists from its beginnings. She also has experience researching the needs of patients with a variety of health conditions and developing support programs.
From her interest in designing on new grounds and deeply understanding people, Azmina has also lead the design efforts for a traveling exhibit about human ethics for the Aga Khan Development Network, and has published research on designing for older adults and young children.
Currently, Azmina is designing at Audible (part of Amazon). Prior to this, she developed products and services at design consultancy Veryday (part of McKinsey & Company) and creative agencies R/GA and CP+B.
Hailing from Vancouver, Canada and educated at Simon Fraser University, she is now dodging umbrellas on the streets of New York.