Experimenting with Incubating Collaboration
Before you can break silos, you got to understand why they exist and what you are (unintentionally) doing to uphold them.
The Seattle we share today is one with a well-documented level of increasing economic disparity. The tech sector is often cast the "haves" and anyone outside of tech are the "have nots." You'll here some people describe these labels as the "old" and "new" Seattle. The breakdown is often rooted in how we approach the ways we demonstrate or express these our shared values. To get anything done in Seattle, you have to know someone who knows someone. But what happens when everyone you know is just like you?
In May 2017, WTIA started this crazy idea to experiment with the process of collaboration itself. Instead of starting with the problem and finding the right experts to execute on that solution, we did the opposite. We created a program to connect curious people with diverse sets of expertise and backgrounds and let them decide what problem they'd like to address. We named this collaboration incubator Ion. It is an experiment that begets experiments.
To our surprise, within 13 months, we were able to recruit 54 Ion Collaborators over three cohorts who volunteer 15 hours a month for six months. By design, one-third represent the tech sector, a third work in government, and one-third are from community-based organizations. They work at small startups to monoliths like Amazon, from the East African Community Services to SEIU 6, and Seattle Goodwill. And from the ranks of staff in the City of Seattle, Port of Seattle, and King County. They are in HR, Finance, Community relations, software dev, cybersecurity, business consulting. They are Millennials, Baby Boomers, and Gen Xers. Many are immigrant and refugees hailing from Chile, Indonesia, Korea, Mexico, Somalia, Ethiopia, Jamaica, Japan, the Philippines, and China.
On no resources and tight time constraints, the teams co-designed community solutions. More importantly, they are reporting that they now know how to speak to those in other sectors, they have more empathy to different approaches. This can only be created by repeated proximity to one another. This isn't just teamwork that they are good at within their own sector. From these cohorts, we're also collecting research the assumptions and biases we have about people from different sectors and work cultures.
This talk is about our experiments in creating collaboration, that is bringing together diverse individuals to create something none of them would have come up with on their own.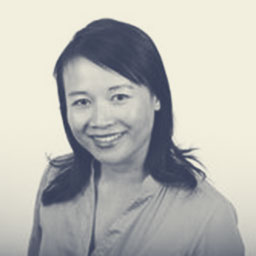 Julie Pham
I am the Vice President of Community Engagement and Marketing at Washington Technology Industry Association (WTIA), which helps tech companies solve problems together they cannot solve on their own. I lead the WTIA Ion Program, a cross-sector collaboration incubator that brings together tech, government and nonprofits to tackle community challenges. For more info, see washingtontechnology.org/ion
I serve as co-chair of the Community Involvement Commission (City of Seattle). I am a Social Venture Partner, a member of the 2018 Harvard Business School's Young American Leaders Program, a 2015 German Marshall Memorial Fellow, and a 2011 Puget Sound Business Journal '40 under 40' honoree. I earned my PhD in history at Cambridge University as a Gates Cambridge Scholar and graduated magna cum laude from UC Berkeley, where I studied history.