Envisioning Our Demise to Prevent Our Extinction
Learn how GE Transportation's innovation lab is using speculative doomsday design fiction to preserve industries and workforces who are resistant to change.
The design thinking process is increasingly criticized for conservatism and maintaining status quo, despite it's popularization for collaborative change-making. At all levels, we admittedly craft idealistic user journeys, brand experiences, and business outcomes as design objectives, sidestepping the realistic challenges we, our products, and our users will face. As interface designers, we actively ignore the impending disruption of human work by automation, bots, and artificial intelligence. As organizational problem solvers, our scope of vision rarely zooms out to observe economies and markets shifting, dying, and being born. As dreamers and innovators, we focus on the value-creating dream for our creations, and have a hard time imagining their risk of weaponization.
At GE Transportation, our futurism research team is a steward for the railroad and adjacent industries who've been "doing it this way" for centuries. Our customers and their departments alienate one other as competitors, matching projects and resources to small-picture pain points that woefully and naively leave the surrounding global and industry changes unaddressed—changes that, if left ignored, will result in the extinction of their market, workforce, and relevance. Our team shapes politically-charged partnerships, aligned industry visions, and intentional roadmaps into the future.
In this talk, I'll give you a renewed understanding of the importance of design context and a fresh look at how a healthy culture of the apocalypse can sharpen your design strategies, rally your stakeholders and decision-makers, and drive bigger picture innovation that trickles actionable guidance down to day-to-day projects. Attendees will walk away with tangible activities for integrating speculative doomsday design fiction into their individual decisions and co-creative conversations.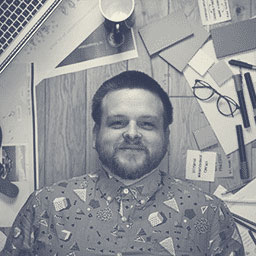 Anthony D. Paul
I lead the futurism research and innovation team at GE Transportation, serving global railroad, seafaring vessels, trucking, ports, and other shipping partners in finding new opportunities for humans to interface with artificial intelligence and industrial automation. Our field research and workshops help guide competitors into aligned partnerships, to create mutually beneficial operating futures. In previous roles, I've built decision-making platforms for defense agencies to track terrorism, research interfaces for illuminating undiscovered trends in deep datasets, and audience segmentation tools to inform user-centered decisions at every designer's desk. On the side, I organize, sponsor, and speak at global and local meetups and conferences on the topics of futurism, remote team management, usability testing, accessibility, and design research.