Designing Startups
When we tell people what we do at Digital Ventures we say that we don't just design products we design companies. Find out how in this talk
When I first heard about the work that we do at BCD DV, I was put into a state of intense excitement. Here was a firm that's sole focus was building new companies from the ground up. It is the proverbial "blank piece of paper" That is most designers dream.
Almost every client we take on has no preconception of what product they want to build or what kind of start-up they want to launch. This is beyond thrilling because it means we can explore an entire universe of possibilities. As long as there is a user need and a business opportunity we can journey there.
This talk will take an in depth look at how you boil down a universe of ideas into an "investable" concept. How you apply a customer driven innovation methodology to determine where an organization has "the right to win' and how you do this in a quarter of the time that a typical start-up takes to get out the garage.
Using design thinking and visual storytelling, paired with the most current ideas in growth marketing and business modeling, the talk will explain how a diverse groups of specialists come together to design and build products with an "unfair advantage" and companies with billion-dollar valuations.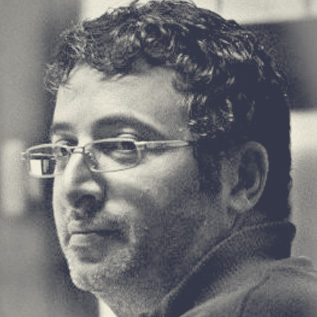 Andy Goodman
A pioneer of the Service Design industry, Andy reluctantly calls himself a futurist. He realized he wanted to be an interaction designer while trying to program a VCR at the age of eight. He is forever looking outside the design and technology bubble for insights and finds it often in adjacent fields. Scientists frequently inspire me: brilliant people who make extraordinary discoveries and work to transform the world.
He joined BCG DV in June 2017 as VP of Experience Design where he hopes to bring these adjacent insights to the design teams to map out the next evolution of design thinking and practice as we grapple with ongoing technological and social disruption.
After an early career in the interactive TV, Games and Mobile industries, Andy shifted focus to the agency world. He joined Fjord in London in 2008, within 18 months he had founded the Madrid studio, rapidly becoming the most in-demand agency in Spain. In 2014 he moved to New York and took over the US operation overseeing the build of 4 new North American offices.
Most recently he has been at a small but advanced AI and Computer Vision startup leading the consumer product department.
I am a frequent speaker at conferences including TED, SxSW, Interaction, and Solid. His writing on design and emerging technology has been published in numerous magazine articles and books.