Designing Better Cities with Artificial Intelligence
We believe there is a better way to design our cities. Through harnessing AI, designers and architects working tightly with scientists and engineers are seeking to tackle one of the biggest global challenges today—sustainable urban development.
At Spacemaker we believe there is a better way to design our cities. We are designers, architects, data scientists and engineers, working closely together, seeking to tackle one of the biggest global challenges today—sustainable urban development.
According to the UN, more than half of humanity lives in cities today. With more than 90% of future population growth happening in cities, it's increasingly important that efficient urban planning and management practices are in place. In order to avoid exploiting dwindling agricultural land, future growth has to take place inside existing city boundaries, increasing the problem complexity. How can we secure sustainable growth, with good living conditions for everyone?
Spacemaker is designing and developing an advanced software application for this purpose. At the core lies a groundbreaking AI-technology that generates, optimizes and evaluates billions of building site proposals across a rich set of design variables, discovering the smartest ways to maximize the value and qualities of any building site—while providing a unique level of insight to architects, real estate developers and municipalities.
This talk will delve into how we are constantly experimenting with everything from new machine learning algorithms to novel data visualizations in order to display, navigate, and analyze large quantities of AI-generated architectural layout proposals.
The problem is complex, and a real pain for architects to manage today. There are many, often contradicting, parameters to consider simultaneously, and no singular answers—driving us to keep exploring new ways of engaging with large solution spaces. Continous experimentation and iteration is key to learning and improving in a new field where there are no experts. As part of our process, new hypotheses are formed, visualized, and tested quickly, even when potential outcomes are uncertain.
Proposals generated by our AI are often interesting, intriguing, even surprising, from an architectural standpoint. When analyzing the results, the machines' "rationale" is not always immediately obvious. As a consequence, we find ourselves designing and experimenting with ways to visualize underlying data, connections, logic, dependencies, etc. with the intention of highlighting new insights and perspectives along the way. We will showcase some of our cross-disciplinary experiments, and demonstrate how designers and scientists together are ideating, prototyping and testing tools—allowing architects to discover different solutions, and understand consequences of various choices.
By harnessing AI in architecture, a field both creative and pragmatic, we seek to empower architects and real estate developers to create innovative solutions for their urban building sites.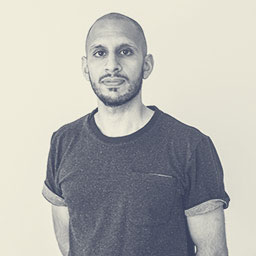 Bilal Chaudhry
I am a designer at Spacemaker, a deep tech AI start-up in the PropTech industry, working with concept development and digital product design. I previously worked several years at some of Norway's most recognized design agencies, acquiring extensive experience working with digital products and services for both consumer and professional users and applications.