A Mobile Platform for Capturing Human Emotion in the Wild
Emotions are social while also individual and intimate, complex and powerful barometers of our experience. Understanding how we emote and developing algorithms to lead healthy productive lives is the goal of affective computing and is the next step after AI
We are on a journey to label human emotion paring it to physiological data. If we are successful in quantifying emotion it will open new doors in artificial intelligence and affective computing. In the labs at Intel we have dedicated researchers, designers and engineers who have already spent years getting to where we are now and we project that we are just in the first stages of this quest.
I'm a designer and I will explain how design methods drastically changed the approach of this effort. How interaction design made collecting the data quick and efficient, how graphic design helped the user understand the user interface and create an emotion event with limited impact on the users emotion and how user experience metrics influenced our work.
I will cover basic emotional theory and the design methods we used to move clinical emotional models into the wild and what it means to quantify a feeling. By the time of this conference I will be able to share some of the data from our most recent study we are currently running. A 50 person longitudinal study using a custom application and multiple sensors. I will show the application we developed and talk about all the discipline's from deployment to psycology that were needed to do this work and how we are working together. I'll explain why Labs at Intel is uniquely suited at looking at complex issues like this that have no immediate economic pathway. Finely I'll explain what a future with affective computing might look like.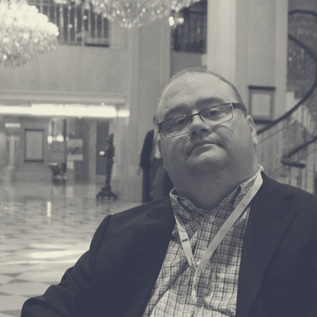 Pete Denman
Senior Designer developing exploratory prototypes in "Labs" at Intel Corp, where he guides ideas through the design process, working with developers, engineers, and ethnographic researchers to create future technologies. Known best for being the lead designer at Intel for famed physicist Stephen Hawking's speech software, Denman could relate to Hawking's circumstances more than most due to his disability.
Skilled at Design Research, Interaction Design, Visual Design and known for his work in the health field as well as for his innovative data-visualization techniques. Pete has a passion for connecting the areas of disabilities and learning/education with technology.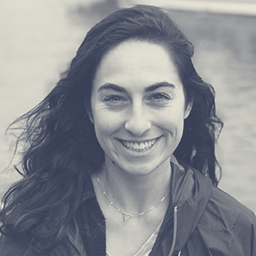 Erica Lewis
Erica Lewis is an interaction designer at Intel where she designs exploratory technologies for Intel Labs in addition to designing manufacturing tools & systems for Intel engineers. Previously, she studied Materials Science and Engineering at the University of Wisconsin-Madison. She is passionate about the intersection of design, technology, materials, and human interaction.