Designing the Impossible
At Shape Interactions, the Willy Wonka of Design and Science, Critical explorer and fearless and passionate provocateur, Wired Innovation Fellow, designer Dr. Nelly Ben Hayoun will create a space for thought, debate and provocation around the sociological and critical impact of new technologies. She will define her design work and practice as a Designer of Experiences and demonstrate how the Human Condition can prevail over technology. She will pledge for Greek Tragedy and remind the audience that innovation often comes from 'multidisciplinary conflicts'.
She will explain the challenges she faces in her own practice, trying to defy and design in the gravity of the hyper-real, a world where fiction is as truthful as reality. In this passionate keynote, she will share the complexity of her large-scale projects (The International Space Orchestra, Disaster Playground and the University of the Underground) and introduce members of the public to her 'hammering and total bombardment' philosophy.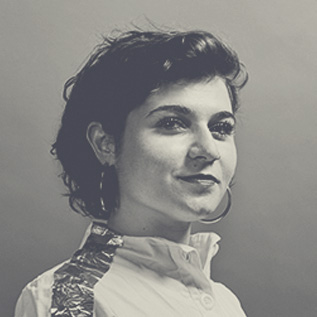 Nelly Ben Hayoun
Dubbed the "Willy Wonka of Design," Dr. Nelly Ben Hayoun is an award-winning French designer and filmmaker who creates multi-dimensional experiential projects at the intersection of science, theatre, politics, and design. Wired awarded her their inaugural Innovation Fellowship in 2014, and Icon Magazine recognized Dr. Ben Hayoun as one of the top 50 designers shaping the future for her pioneering "total bombardment" design philosophy. Her laboratory, NBH Studios, is on a mission to bring chaos to the world; she is the founder and director of the International Space Orchestra, the world's first orchestra of NASA space scientists and astronauts; and most recently she founded the University of the Underground, a subversive tuition-free educative and cultural program that is on course to create disorder in academia. Her award-winning projects include an immersive installation that imagines the experience of a sonic boom, a reclining chair simulating the three stages of a rocket launch, and two feature-length documentaries; the International Space Orchestra (IFFR 2013) and Disaster Playground (SXSW 2015). In 2018, Dr. Nelly Ben Hayoun completed her 3rd documentary film, I Am (Not) a Monster. Her various roles include Chief of Experiences at WeTransfer, Designer of Experiences at the SETI (Search for Extraterrestrial Intelligence) Institute, advisor to the United Nations Virtual Reality Labs, and more. Dr. Ben Hayoun currently splits her time between London, Amsterdam, and New York City.